About
The name Sheetfabs - short for sheet fabrications - is actually a little misleading as Sheetfabs can fabricate from not only Sheet Steel but from Heavy Plate and almost any steel section whether it is in mild steel, stainless steel or aluminium.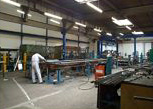 Sheetfabs has a manufacturing capacity of approximately 44000 sq.ft. (4000 sq.mtrs.).
Equipment used in the workshop includes plant like this state of the art computer linked and controlled High Definition Plasma Profiler which allows almost any shape to be accurately cut in sheet up to 15 mm thick.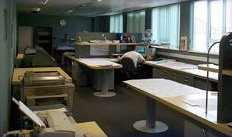 Sheetfabs has 6500 sq.ft. (600 sq. mtrs.) of office space. Incorporated in this are our design offices which utilise the latest computer aided design and structural design software, and are linked directly to some of the manufacturing plant.
Manufacturing control through each process is helped by using a variety of Computer Numerically Controlled (CNC) guillotines, saws, break presses and punches.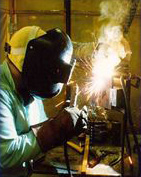 We have experienced welders who use a variety of welding techniques - mainly Stick, MIG (metal inert gas) and TIG (tungsten inert gas) welding as appropriate for each project.
Sheetfabs has undertaken projects world-wide and have a dedicated team of steel erection experts who have operated all over the world including the UK, Europe, USA, and even some more unusual locations such as the Caiman Islands and Brunei.